If I could choose the format, this blog would've been a Tik Tok. However, I was asked to write a blog and was not allowed to use Chat GPT, tragic. So here goes nothing, or something, if you want to work in marketing.
The world of marketing is a very broad one. There are numerous branches and variations - content, influencer, social media, inbound, outbound, PPC and paid, the list goes on... It's easy to get overwhelmed: is this for me? Where should I apply? Am I qualified? The answer (as cliché as it sounds) is always the same: you won't know until you try.
I was in the same boat. Picture me, fresh out of university in 2020 - need I say anything else? There were 5-step interviews for 6-month internships, great candidate competition, ghosting employers (a classic), and my favourite: 'but…you don't have a degree in marketing?'.
Fun fact: You don't need a degree in marketing to work in marketing!
If you're reading this, it's because working in marketing has piqued your interest. I hope that by telling you my story, the interest becomes a reality.
I didn't have to wear a suit!
At the start, I wanted to learn everything and anything. I always imagined myself working in a very serious environment: strict work times, lots of stress, guys in suits, working on the weekends and sacrificing my personal life. When I first arrived at the office, it was the opposite. That's when I realised I was starting a marketing job, not finance.
The atmosphere was relaxed but professional, and the way of working was collaborative. Do you have a question? Just shout it out. Everyone is willing to help, which is very important, especially for someone just getting started.
One of the things that really struck me was how no two marketers have exactly the same job. This means you try different areas of marketing until you find the ones that feel right. Working with a long-standing HubSpot partner, my marketing journey began with a lot of HubSpot training.
Using HubSpot became muscle memory, and before I could realise it, my role had grown. I started joining client calls and helping run general marketing operations for a group of clients (emails, website builds, workflows and marketing automation etc.). I learnt the ins and outs of inbound and content marketing and worked closely with account managers to deliver marketing campaigns.
Six months in, I had to design a webinar process for a client. Although challenging at first, I developed a very solid structure for running a webinar, and I'm quite proud of it. The process is now a staple in the client's marketing plan and has even been used for other clients in the agency. I have even been called a "webinar expert". What can I say?

As a true Gen Z, I put my love (more like an unhealthy obsession) for social media forward to set up social media calendars and write copy. It allowed me to express myself creatively and I soon learnt how to work with design and development teams to deliver new content and ideas. However, I haven't broken the generational wall to post Tik Toks yet.


Have faith - I know what I'm doing!
Sometimes, being thrown into the deep end can be a good thing. I think of when I first found myself managing and organising the tasks for my first big client. Was I nervous? Absolutely. Was I scared? Most definitely. But seeing the amount of responsibility and trust put into me motivated me to get the job done as well as possible. The key is to keep communicating with the team no matter how big or small the task is.
If there's one thing you learn from working at an agency, it is to stay organised—the skill of skills. Make sure you keep your client work organised, keep track of your tasks, manage your priorities for the day. Learn this early on and make it part of your daily routine.
But not everything is about admin. Working with different clients on a daily basis makes the job challenging (in a good way) and keeps it interesting. No day is the same, and no problem is too difficult.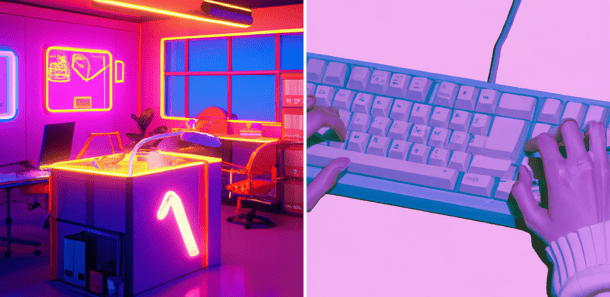 The personal touch
One of the most important things of my first year was feeling valued by the team, which can be shown in more ways than through your paycheck. Each person has a development plan tailored to their personal goals. The plan contains short and long-term goals agreed upon between you and your line manager. We then have monthly check-ups with our line manager to update, refresh or amend said plan. Sometimes we just have a chat.
The management team has created an atmosphere where I am listened to. I'm not afraid to say how I feel or bring up issues as soon as they happen. You'd be surprised how motivated you can be when you feel good within a team.
This is really how you work in the Deeply Digital team. The team goes the extra mile to ensure each of us does our job and enjoys it.
If you're looking to work with us, please check our open vacancies below! Also, feel free to email me if you have any questions.