Whether it's a traffic or conversion problem, you've established your website just isn't working. It looks great, it's designed beautifully, so what's going wrong? This isn't uncommon but it is solvable. Let's take a look at some of the most common reasons why your website just isn't converting leads and what we can do to solve them.

1. Your call to actions are all wrong:

One of the first things to look at when your page has a low conversion rate is your CTAs. There are a number of common mistakes people make when it comes to using CTAs correctly.
Firstly, you use too many CTAs for a single page. As a general rule, one CTA per page is enough. If someone is going to take action, they aren't likely to commit to multiple offers at a time.
This is arguably the most important rule in CTA land - they MUST be actionable. A big stumbling block we see is people using weak CTAs. Passive CTAs that draw no attention could be the ticket to you losing out on customers. One word CTAs such as 'read' or 'submit', could be enough to drive people away from what could be some very valuable content, this type of language is so passive and unexciting, that it's more likely to drive people away rather than entice them.
CTAs also need to align with your leads stage in the buyer's journey. If they've only just landed on your site you don't want to hit them with the CTA 'sign up now' but something like: 'discover more' or 'learn more'. At this stage they need to build up a familiarity with your brand and get a flavour for what you do.
2. Time consuming forms:
Hubspot recently conducted some research that revealed the average web form length in 2019 is 5 fields, which tends to receive a high conversion rate. It can be tempting to create multiple complicated forms fields to make your sales team happy, however it's proven over and over again that minimalist web forms perform better and can help you to move leads down the sales funnel more effectively. For most of us, our main goal is to improve our B2B lead generation and if you're using systems such as Hubspot CRM this can be made a lot easier. Hubspot CRM can fill in missing information, for example, if you add a leads email address to the system there's a high chance it will find additional information, such as: company name, business phone number etc. An effective way of testing user behaviour on forms can be through using tools such as Hotjar, this tool heatmaps the users behaviour on the site and helps you to see where people are dropping off the page.
3. Simply, your website just isn't getting enough traffic:
Often it can be as simple as this. For some B2B businesses a 1% conversion rate is pretty good and that's just enough to keep you ticking along. But this purely comes down to maths, if 100 site visitors creates 1 lead, attract 1000 site visitors and you'll get 10. But we all know it's not that simple. You could easily buy site visitors and your traffic will be up but the likelihood is you'll have a conversion rate of 0%. That's the beauty of inbound marketing, your content should do the work for you. Think blogs, infographics, explainers, a strong social presence, all of these assets should attract the right people rather than you having to go look for them.
4. Too much information:
This is a simple yet common issue across B2B sites, you may be spoiling your visitors for choice! The easiest place to get leads, but also the easiest place to cause confusion on is your sites landing pages. As a rule, your landing page serves one purpose and has one marketing offer. The only clickable section on the page should be the CTA below the form. An easy but very effective hack for lead generation, is to remove both the site navigation and the footer on the page. The navigation provides an easy route out and the footer is often filled with links that can cause distraction. A hesitant visitor is likely to click on a different link that catches their eye and requires a lower level of commitment.
5. Your landing page is not mobile friendly:
It's no secret that surfing the internet on mobile is a growing trend. Yes, this will depend on your industry, but with the B2B space becoming increasingly agile, there's only one way the trend will go. In quickly developing, tech intensive industries such as software engineering, the proportion of mobile use is hitting 70% and over. Converting your design teams mindset to 'mobile first' will have a positive impact on conversion rates. Making sure that you test your pages across all devices, will ensure you don't miss pages that aren't mobile friendly and drive leads away.
6. Misaligned marketing message:
If you've followed all the correct steps and your website is perfectly optimised, but your leads still aren't converting it may be time to look at the messaging across your site. It may seem very obvious but at every stage you need to write in a tone that appeals to your buyer persona at the stage they're currently in. This is another great example of why inbound marketing is so vital. If your assets such as headings, CTAs and main body copy are misaligned and inconsistent in tone, people are less likely to connect with your brand and offers. Your writing style will build your leads confidence in your brand and ensure they trust your opinion and knowledge in the industry.
7. The website doesn't have an end goal:
You may be selling the most brilliant product on the market, but, unless you solve a problem for the user and create an end goal, they won't convert. The best way to resolve this is to address pain points and then explain exactly how you can help. Too many websites still have an outdated marketing mindset. They treat their website more like a one-way billboard communication, rather than a two-way type communication. But things have you can explain everything that you think you do brilliantly but not actually address your audience's problems, at this point it's likely that your visitors will have zoned out. They simply want to know exactly what you can do for them and how it will solve their problem. It's always valuable to be clear and concise about how you can help them achieve their goals.
8. Your website is badly designed: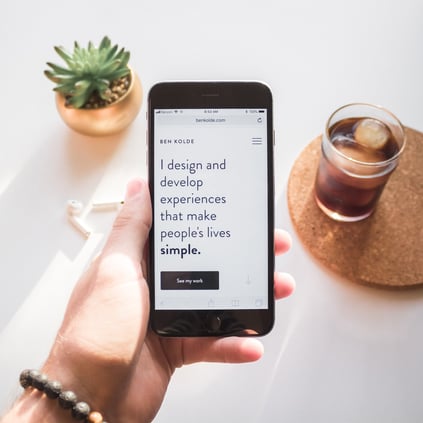 A recent study found that 94% of negative website feedback was design related and even more importantly 75% of consumers admit to making judgements on a company's credibility based on the company's website design. Source: Sweor Blog. Much like picking the best looking apple in the box, we buy with our eyes, this applies to web design too. An offensive looking, out of date or extravagant website design could drastically decrease your conversion rates.
There are a few steps you can put in place to inform your design decisions:
Understand your buyer personas preferences

Carry out A/B tests to determine what layout/colour combinations lead to higher conversion rates

Analyse competitors websites and leaders in the market to see what they're doing and what's working well for them

Identify patterns and try to find a gap in the market